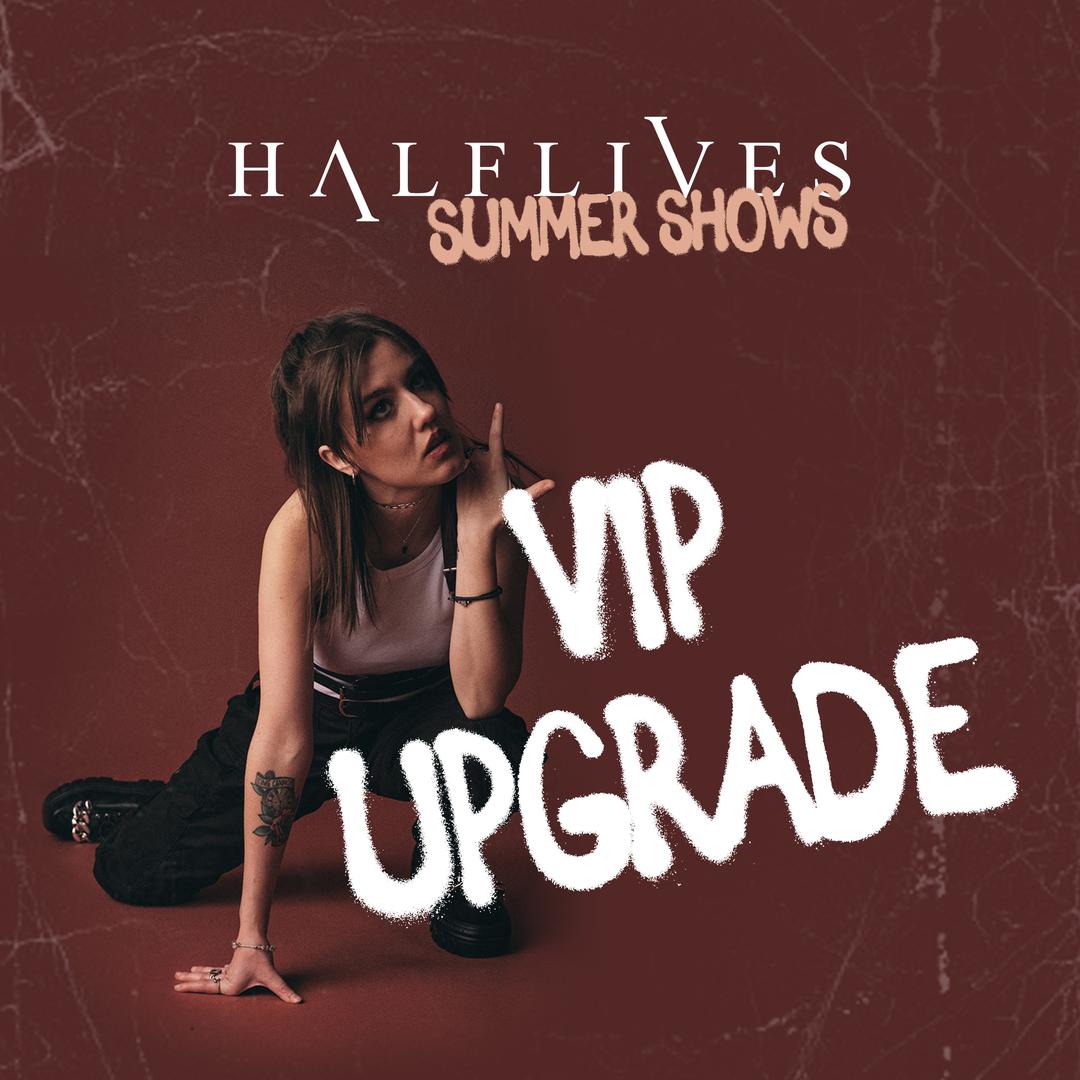 Halflives Summer Shows VIP Upgrade
Upgrade to your summer 2022 ticket in Paris, London or Manchester.

The VIP package includes:
- VIP early entry into the venue
- Exclusive intimate performance of two acoustic songs
- Meet and greet + Q&A
- Polaroid photo opportunity
- Signed poster
- Early access to merch

Please note that this does NOT includes a ticket - your ticket must be purchased separately
here
.


VERY IMPORTANT



The VIP upgrade is not a ticket to the concert. A general admission ticket is required to participate in the VIP upgrade. Your concert ticket will be checked before you enter the VIP upgrade event.
The VIP will start approximately 60 minutes prior to the general admission door time at all venues, please plan your arrival time accordingly.

Your name will be on our VIP guest list.
Please place one order per VIP attendant. If you would like to purchase a VIP upgrade for someone else, please place a different order.
If you would like to purchase VIP upgrades for more than one show, you can place one single order with one VIP upgrade per city (make sure to select one city per show in the drop-down menu on the VIP page).

We do not post physical VIP tickets to you.
All VIP items will be handed out at the session.
Nothing will be mailed to you.

All sales are final unless the concert is cancelled.
Please make sure to provide an email address where we can contact you.

Questions and enquires: hello@wehavehalflives.com
Upgrade to your summer 2022 ticket in Paris, London or Manchester.

The VIP package includes:
- VIP early entry into the venue
- Exclusive intimate performance of two acoustic songs
- Meet and greet + Q&A
- Polaroid photo opportunity
- Signed poster
- Early access to merch

Please note that this does NOT includes a ticket - your ticket must be purchased separately
here
.


VERY IMPORTANT



The VIP upgrade is not a ticket to the concert. A general admission ticket is required to participate in the VIP upgrade. Your concert ticket will be checked before you enter the VIP upgrade event.
The VIP will start approximately 60 minutes prior to the general admission door time at all venues, please plan your arrival time accordingly.

Your name will be on our VIP guest list.
Please place one order per VIP attendant. If you would like to purchase a VIP upgrade for someone else, please place a different order.
If you would like to purchase VIP upgrades for more than one show, you can place one single order with one VIP upgrade per city (make sure to select one city per show in the drop-down menu on the VIP page).

We do not post physical VIP tickets to you.
All VIP items will be handed out at the session.
Nothing will be mailed to you.

All sales are final unless the concert is cancelled.
Please make sure to provide an email address where we can contact you.

Questions and enquires: hello@wehavehalflives.com
FREQUENTLY VIEWED TOGETHER
Use left/right arrows to navigate the slideshow or swipe left/right if using a mobile device